Bio for Mark Glandon
4/26/2009

I served in Vietnam from Aug '69 to Aug '70 as a COMSEC Logistical Repairman.
Upon my return to the good old USA, I spent the next 8 months at Fort Hood, TX completing my tour of duty (3 year) and working at the Installation Crypto Repair Shop. I married my high school sweetheart 15 months prior to going across the pond. When I returned home I saw my son for the first time, he was 8 months old. Michael would be our only child. This October Nancy and I will have been married 41 years.

Finding a job after Vietnam was difficult. In May '71, I started as a GS-3, Step 1 ($5,524 per year) with the Federal Government. I worked for the FAA, Aeronautical Center, Oklahoma City as a Publication Warehouseman. I attended night school full-time at the University of Central Oklahoma, Edmond, OK and graduated four years later (Jul '76) with a Bachelor of Science degree in Accounting.

Listed below is a sequence of my life events starting from here and going forward:

In May '72, I changed jobs and began working full-time for the Oklahoma Air National Guard (Federal government position) as well as joining the Air National Guard and performing weekend duty one weekend a month. I held several different positions with them from Warehouseman to Supplies Management in Oklahoma City until Sep '76.
I then went to work for the U.S. Treasury Department as an Auditor in Amarillo, TX from Oct '76 to Nov '78.
I became an Auditor with the Health, Education and Welfare Audit Agency (Federal government), Oklahoma City, OK from Nov '78 through Apr '80.
I finished Officers' Candidate School in May '79 and was commissioned as a Second Lieutenant in Field Artillery, Oklahoma Army National Guard.
I ran the city's bus service in Oklahoma City as the Director of Transportation, Central Oklahoma Transportation and Parking Authority, (municipal government) Oklahoma City, OK from Apr '80 through Dec '86.
I took another Officer Basic Course to qualify me as a Medical Service Corps officer in the Army Reserve and was reappointed as a First Lieutenant in May '82.
I went back on active duty as a Captain in the Army Reserve and was the Executive Officer, 354th Medical Company, Harlingen, TX from Dec '86 to Nov '90.
I transferred as a Major on active duty to become the Assistant Operations Officer, 807th Medical Brigade, Seagoville, TX from Nov '90 to Jul '94.
My next transfer was as a Personnel Officer, U.S. Army Medical Command, Fort Sam Houston, TX from Jul '94 through Jun '96.
I got promoted to Lieutenant Colonel and became a Plans Officer, Plans Division, U.S. Army Medical Command, Fort Sam Houston, TX from Jun '96 to Oct '97.
I attended night school full-time at Webster University's satellite campus at Fort Sam Houston, TX and received a Master degree in Health Services Management, Jul '97.
I transferred as the Operations Officer, Surgeon's Office, U. S. Army Forces Command, Fort McPherson, GA from Oct '97 through Apr '98.
I was boarded and selected as Battalion Commander, 424th Medical Logistic Battalion, Edgemont, PA from Apr '98 through Sep '00.
I participated in the independent studies of the Army War College and received a Master of Strategic Studies, U.S. Army War College, Carlisle, PA in Jul '00.
My next assignment was as the Chief, Medical Operations Section, Directorate of Combat and Doctrine Development, Fort Sam Houston, TX from Sep '00 to Aug '01.
I got promoted to Colonel and became the Director, Health Services Personnel Management Directorate, Human Resources Command, St Louis, MO from Aug '01 through Dec '02.
I was assigned as the Deputy, Plans Division, U.S. Army Medical Command, Fort Sam Houston, TX from Jan '03 through Oct '08. This assignment was first as a Colonel (Jan '03-Feb '06) and then as a Federal government employee (Feb '06-Oct '08).
I transferred as a Federal government employee and became the Exercise Officer, Department of Homeland Security, FEMA Region VI, Denton, TX in Oct '08 to present.
Summary of career history is 38 years of total military (reserve and active duty) with 26 years of those on active duty and I currently have 11 years of Federal civil service time.

I live in Richardson, TX with my lovely wife Nancy; have the one son (Michael) and he's about to retire from the Army in Oct '09, daughter in-law (Kiyeon) and an 8 year old granddaughter named Kiara. Nancy got her Nursing degree in Jul '90 and pasted her Registered Nursing Board Dec '90. Michael is a Licensed Practical Nurse and is a Sergeant First Class in Military Intelligence. My granddaughter is smarter than a whip.

I like the outdoors whether I'm hiking, cycling or doing some other outside activity. I also enjoy hunting and fishing, but haven't gotten to do as much as I would of liked over the years.
Life just doesn't get any better than this.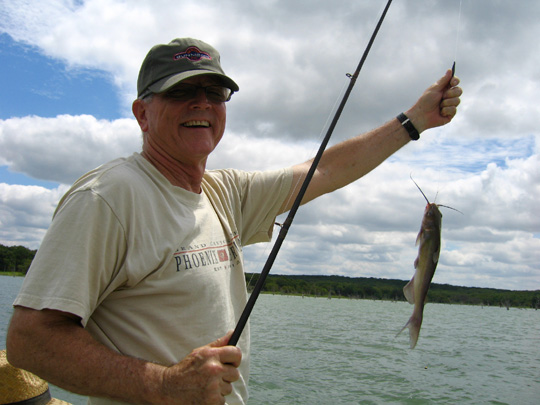 (Fishing with Kiara in 2006)